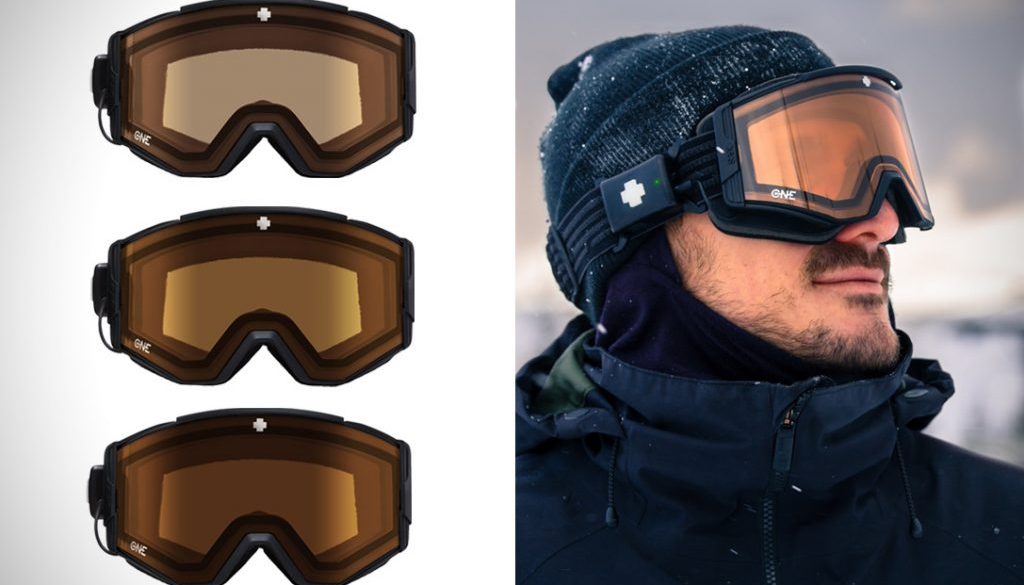 Goggles are definitely one of the most important skiing and snowboarding accessories for any passionate athlete. We do have a few extreme sport fans in our team and they've told us that the ability to see the variations in the snow surface is the only way to react to them.
Historically, ski goggles haven't changed all that much since they first appeared on the market with Dr Bob Smith's first version. They've all come in the form of a double lens breathable foam protector against fogging object. Basically every goggle maker now also offers interchangeable lenses, with the system relying on clips, levers, locks or magnets.
What's so innovative about the new Spy goggles? 
This year, the eyewear company Spy unveiled a new goggle set designed to transition its lense color (on the fly) with a mere press of a button. The inventive and super useful Ace EC goggles already have won the Digital Trends Innovation Award winner.
When you're flying down a mountain, you don't have time to arrange your goggles, in order to protect your eyes from the sun and maintain proper shade throughout the ride.
The Ace EC from Spy are a new snow goggle that leverages electrochromic technology to allow skiers, snowboarders, and anyone else to quickly change the tint of their goggles. Thanks to three different tint options, you will be able to seamlessly go from sunny, mixed, or flat weather scenarios with the press of a button.
Switching between each tint takes about four to eight seconds and its battery lasts for 150 full change cycles, meaning you'll indulge in any sort of activity you love without having to worry about recharging.
Using a removable lightweight battery pack with a one-button design, the new electrochromic One Lens can have its tint quickly adjusted. As soon as you tap the button, you're effectively sending an electronic pulse via a tiny filament between the dual lens to change its setting. You don't have to worry about taking off your gloves or mittens, you just simply press your goggles as you're going downhill and ski on.
Another cool thing we liked about these ski goggles was the fact that they can easily be charged via a micro-USB connection.
As far as the settings for the lighting go, you have three levels of visible light transmission (VLT) – the darkest setting is available for bluebird conditions, while a light persimmon tint is best for flat light conditions.
As a downside, one of our lady friends said she didn't feel all that comfortable wearing them, that the frame was too big and it even obstructed her breathing slightly.