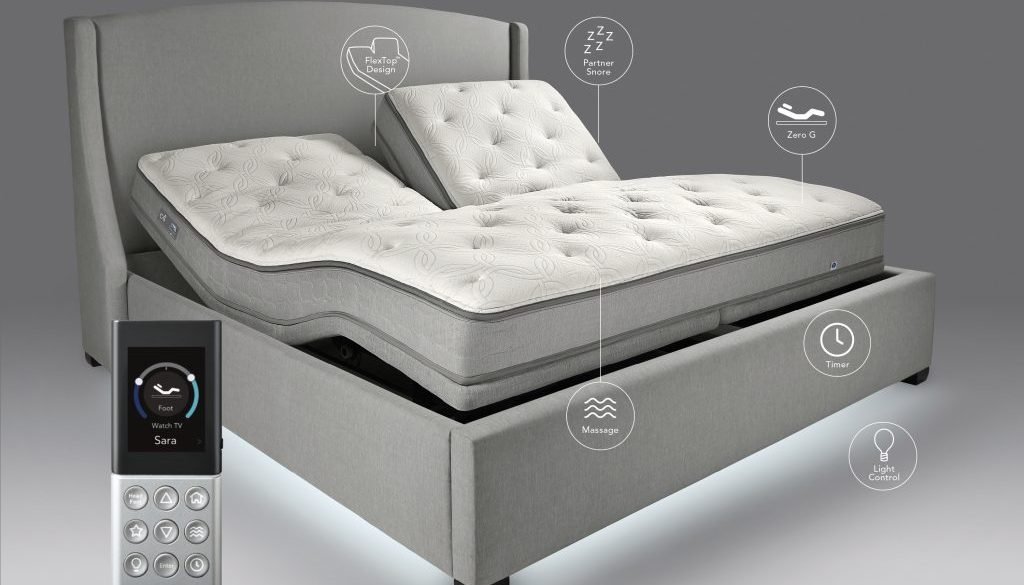 The Sleep Number bed looks like any other bed. Because it comes in small, lightweight pieces, it is easy to move into loft spaces or up many flights of stairs. The beds tend to be popular with couples because they can be made with dual air chambers, so each person can adjust to their preferred setting without compromising.
But is a Sleep Number bed a good investment for you? Does it really offer the magical experience that the ads promise?
All models in the Select Comfort line of products are air beds that consist of an air-filled chamber contained within other mattress materials. The benefit of this air chamber mattress design is that it can be inflated or deflated to varying degrees at will.
Why do we love the ides of the Sleep Number bed?
Well, first and foremost, the best thing about these beds is that they're so versatile. The numbers of your Sleep Number (the Sleep Number setting) corresponds to your ideal firmness and support. The numbers range from 0 to 100 and the higher your number, the more air/firmer your Sleep Number bed will be.
Likewise, the lower your Sleep Number, the less air will be in your air chamber and the softer your bed will be.
These Sleep Numbers are an extremely personal thing and can be changed. If you first determine what you think your specific Setting is in the store and go home and don't like it, there is no reason you can't adjust your number till you find what suits you best.
The variety of these beds is amazing. The Sleep Number beds being available in twin, twin long, full, double, queen, king, and California king sizes. The twin beds have single air chambers; the other beds have dual chambers that allow each side to be controlled separately. Also, the great variety of models allows you to choose more cushioning gel-foam, or temperature-moderating foam in the mattress topper.
Another advantage of the Sleep Number is its setup. Unlike several standard mattresses, the Select Comfort system does not include or need a box spring. This feature makes it perfect for a platform bed frame. In the basic setup, the mattress sits atop a molded plastic platform that has an upholstered cover to make it look like a box spring. The FlexFit mechanized lifting system is available in three different configurations to raise the head of the bed, head and foot of the bed, or just the head or feet on either side.
The air-filled chambers are enclosed in a zippered cover that looks exactly like a standard mattress. The cover can come with the same pillow-top style features found in standard mattresses, ranging from 2 to 7 inches in thickness.
An air pump sits under the bed and a remote control is used to set the firmness of the mattress air chambers by either releasing or pumping in air. As we've already mentioned, the firmness scale goes from 0 to 100 in increments of 5, with 100 being fully inflated.
By far the most impressive benefit of the Sleep Number bed is the possibility of having two people sleeping on the same bed and adjusting the firmness setting to their own pleasure and needs. There's no way around the fact that this is a revolutionary sleeping system.
An aspect that most of us haven't thought about previously, before trying out this sort of mattress is that our guest bedrooms are a lot more inviting right now. Since the settings can be changed at will, visiting guests could sleep comfortably by adjusting the bed to their firmness preferences.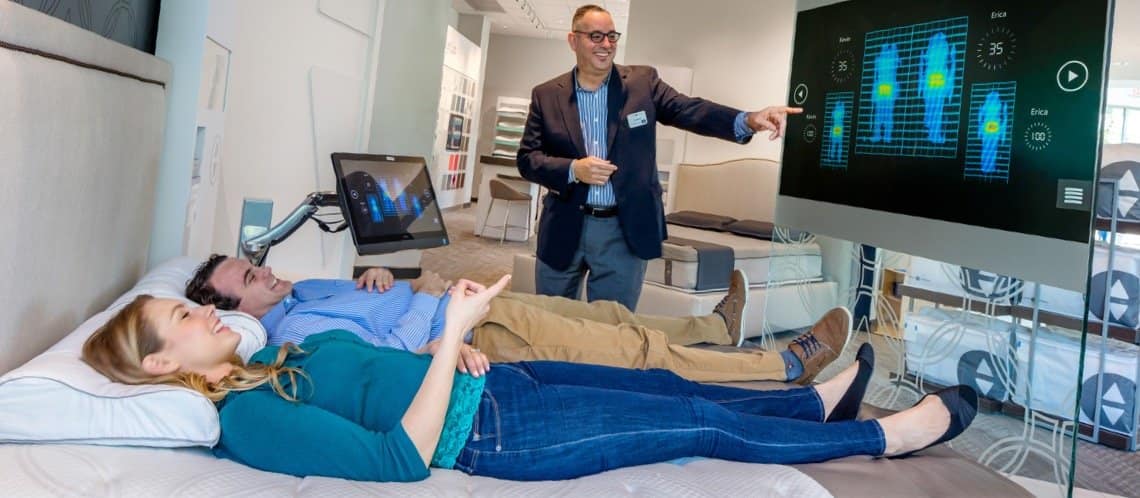 Obviously we were thrilled about the fact the it comes with built-in sensors that will track your sleep, body movements, breathing, and heart rate to give you insight on how you can get a good night's rest. The whole system is based on the SleepIQ Technology that senses how you sleep and provides data that lets you make modifications to optimize your night's sleep. It can let you know what your best sleep hours are and help you find your Sleep Number setting.
It also connects to a number of health and wellness apps, including: Fitbit, MapMyFitness, Apple Health, Microsoft Health or Nest
Some of our teammates have actually said that they noticed a slight therapeutic benefit to sleeping on this bed. The ones that sleep on their backs reported higher satisfaction than side or stomach sleepers.
On the other hand, if we were to mention a pretty disturbing downside, it's the fact that sleeping tightly with your partner can become an impossible or at least an irritating task because it is really two separate beds. The dual air chambers are separated by a foam insert. Two people lying in the middle of the bed are lying on the edges of the individual air chambers and on this foam strip, which may feel either like a divot or a hump, depending on the firmness of the air chambers. This is not as noticeable in the beds with thicker toppers.