No other massage gun on the market has impressed us as much as The Kraftgun Force did. With 66-80lbs stall force, long-lasting battery, and noise-free operation, this massage device should help reduce muscle sores and deliver a soothing rub after your workout.

According to the manufacturer, The Kraftgun Force is the result of eight months of research, development, and collecting feedback from the customers. It features a smooth, ergonomic design and provides efficient operation while making less sound than an electric toothbrush.
We wanted to test the manufacturer's claims, so we took the Kraftgun for a test. Their research lasted eight months, but it took us less than two weeks to check every single feature of this massage gun. We even did some crazy workouts in preparation, just to get a bit of muscle soreness before we tested it. The results are below.
What We Love About Kraftgun Force
The first thing that impressed us about the Kraftgun Force was the low noise that it makes. We took it out of the box, charged the built-in Samsung battery, and turned it on. To our surprise, it only made a soft sound, much lower than other massage guns we tested before. The noise-free operation means that you can use it at the gym or night without bothering the others.
Going back to the unboxing, we had a series of pleasant surprises. Firstly, the Kraftgun Force comes in an elegant, black case looking like James Bond's toiletry bag. From the get-go, you get the promise of a potentially high-quality massage gun.
Inside the case, besides the Kraftgun, we found the universal AC charger and another stylish black case containing the three extra massage heads. But the thing that caught our eyes was the elastic neck sleeve that came as a gift in the case. This cool-looking sleeve can double as a bandana or even as a face mask in these trying times. We must admit that it was a nice touch from the manufacturer to add it to the package.
Moving on, we liked the lightness of the Kraftgun Force, which is roughly 2.2 lbs (1kg), and its sleek, black casing. 
The innovative design of the Kraftgun Force allows you to have four different grips on the gun. It means that you can easily massage almost every part of your body, from your quads to your lower back while holding the gun comfortably.
The four massage heads include a ball head, a traditional forkhead, a bullet head, and a flat head. To change the head, you only need to have a strong grip on the gun with one hand and pull out the head with your other one. Next, you place it in the other head and push it until it makes a soft click, which means it's in the place.
The controls on the Kraftgun are straightforward. You have an ON/OFF button and a speed dial for the three massaging speed levels that range from 800 rpm to 2,400 rpm. However, you also have a fourth speed level, called the "Smart Mode," which will start on the lowest level and gradually increase and decrease depending on the force you apply to the gun.
The charging port is on the bottom of the gun, which means that you could use the Kraftgun Force while it's charging.
We mentioned the Samsung battery, but we didn't specify just how useful it is. This 2,000 mAh built-in battery can last up to 3.5 hours on a single charge. In total, it has a lifetime of 10,000 hours, and you will probably only need to charge it once a month.
Last but not least, we love the 24V built-in motor of the Kraftgun Force that allows you to put a lot of pressure on it even at the maximum stall force of 80lbs (36kg).
How Kraftgun Force May Help You
The Kraftgun Force should help you recover quicker from the muscle soreness that follows every workout. Daily use should reduce the risk of injury and support fast recovery if you're bouncing back from a muscle strain.
Lower back pain, shoulder aches, and neck sore are frequent problems for adults, and you can develop them even if you don't go to the gym. The Kraftgun Force aims to alleviate these pains, improve blood flow, and reduce muscle tension.
Kraftgun Force has 3-speed levels of massage and one "Smart Mode" to help you alleviate muscle sores and recover quickly from strains and injuries.
Kraftgun Force is made from top-quality components that include a long-lasting Samsung battery powering a 24V brushless gun.
Kraftgun Force uses noise-free operation to help you get a comforting massage anytime and anywhere.
Kraftgun Force features a lightweight, ergonomic design that enables you to massage any sore area of your body.
Kraftgun Force comes with four interchangeable massage heads to help you get pain relief with various touches.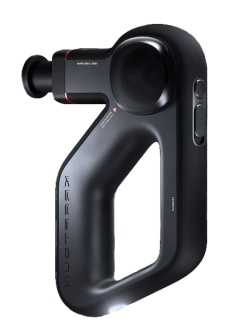 DESIGN
VALUE
READER RATING
EXPERT RATING
Kraftgun Force is available to order only from the manufacturer's website. You cannot find it in retail stores, but buying it online should provide you with essential customer benefits.
When you buy Kraftgun Force directly from the manufacturer, you know that you are ordering a genuine product. Additionally, you may get access to a broad range of discount offers, time-limited offers, and cost reduction promotions. For more information, please visit the Kraftgun Force website.