The Pix Backpack is an innovative combination between the classic backpack and smart technology. As part of the modern lifestyle, this accessory pairs up with your smartphone to transform the boring task of carrying stuff into a fun and bold statement.

With the Pix Backpack, you should find it easy to fit into the latest trend that sees smart technology implemented in nearly every random object you can imagine. The high-quality built, reliable materials, and fun user experience should help you stand out from the crowd, make new friends, and enjoy playing games everywhere you go.
After a few months of extensive research, we concluded that Pix, the manufacturer of the Pix Backpack, has improved its market share and garnered the satisfaction and support of consumers everywhere. A company that practices what it preaches and delivers an honest product without additional marketing schemes aimed at ripping people of their money should always enjoy the same success.
What We Love About Pix Backpack 
The first thing that impressed us the most about the Pix Backpack is a simple yet brilliant concept behind it. With this backpack, you do not only have a safe and secure rucksack to carry your stuff in, but you also get an entertainment device.
The Pix Backpack is built in such a way that it connects with your smartphone, whether you have Android or iOS. From there on, you can play images, animations, widgets, games as well as your designs on its surface. You can even draw, write, and personalize your backpack as much as you like to catch the attention wherever you go.
Secondly, we love that you can post big, lit signs on your backpack to keep you safe on the road. For example, if you are riding a bike, you can show signals of your future trajectory on your Pix Backpack. This way, everyone traveling behind you will see where you're going and not interfere with your journey.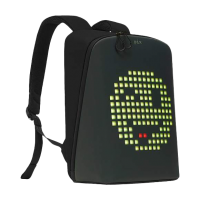 On the front side of the Pix Backpack, you will find a shock-proof LED screen with a 16×20 resolution that supports more than 16.5 million color combinations. On it, you can play whatever gimmick or animation you like from your smartphone through an app that is available in the App Store and Google Market.
We also discovered that you can download the Pix Backpack app for free and easily navigate through it to enjoy all the fun things that the backpack has to offer.
Another aspect of Pix Backpack that we found impressive is the quality of the fabric from which the backpack is made. Not only is it flexible, but it is also water-repellent and protects the LED screen and the interior from rain, snow, and drops.
How the Pix Backpack Works
Even though we were overall pleased with the quality of these wireless earbuds, there were a few times in which we wondered if there was something wrong with connectivity. We can't say for sure if the few seconds loss of sound was due to the area we were in, our devices or other factors, but we felt the need of a more stable connectivity. We experienced very short glitches of signal and even though they did not last for long, we can say that they were not pleasant happenings. 
Pix Backpack is made from high-quality fabric and boasts various attractive designs. The entire rucksack is resistant to water and other weather elements, as well as to sudden drops and powerful physical blows.
Pix Backpack works with any 2A output power bank that can show your favorite animations, games, and signs on the backpack uninterrupted for almost six hours.
Pix Backpack features a top-quality LED screen that is easy to customize and fun to use even by beginners.
DESIGN
VALUE
READER RATING
EXPERT RATING
Pix Backpacks are available to order only from the manufacturer's website. Unfortunately, you cannot find them in retail stores. However, buying them online should provide you with essential customer benefits.
When you buy the Pix Backpack directly from the manufacturer, you know you are ordering the genuine product. Additionally, you may get access to a broad range of discount offers, time-limited offers, and cost reduction promotions. For more information, please visit the official Pix website.