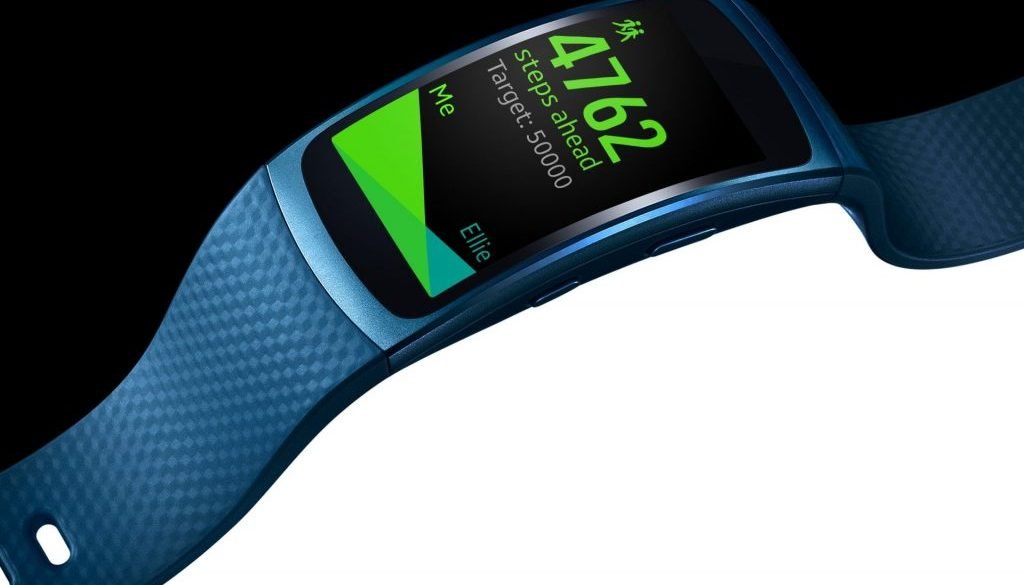 Feeling better about practicing water sports rather than hitting the dusty pavements? The Samsung Gear Fit 2 might be exactly what you're looking for.
Samsung caught our attention with the Gear Fit 2, ever since it was released because it seemed to have everything we needed no matter the form of fitness we were into: all-day fitness tracking, heart rate monitor, GPS for tracking pace and distance when running, smartphone notifications, inactivity alerts and automatic exercise detection. It even had some quirky features such as onboard music storage, and water and caffeine tracking.
So starting off with what we loved about the Gear Fit 2, we'll start with the display. It's as vibrant and shiny as we're used to the Samsung wearables. The rectangular display is now wider than before, offering more screen viewpoint for fitting in additional information. That means extra words in a notification, a more robust media player, and a full map of your run provided by the built-in GPS function, to name a few use cases that take advantage of it best.
As far as the design and comfort go, you've probably all had to suffer due to the bulky and lusterless shape of these types of gadgets. Wearing them in public didn't seem like an option. The Gear Fit seemed promising but the Gear Fit 2 was the ultimate step in the right direction. Attached to the Gear Fit 2 itself is the silicone band which, like the casing, comes in a variety of colors including black, ase an additional band to switch the style up.
The curved, rectangular screen is surrounded by frosted metal trim in the color of your choosing and backed with sweat and water resistant plastic where it touches your wrist.
When it comes to the usability aspect, The Gear Fit 2 has two buttons on the side that point toward your hand, one being used to navigate back within a menu and the other is used to power the device on and off, as well as bring up the settings menu.
Besides that the power button can be programmed to execute a task (out of an assortment of options) with a double-click.
Though there is a pretty drastic shift in build materials used with the Gear Fit 2, it all comes together seamlessly in a visual sense.
One of the biggest design improvements over the original Gear Fit that really impressed the heck out of us is the way in which it charges. Now, the Gear Fit 2 can swallow electricity through its charging dock.
As previously mentioned, the Gear Fit 2 is a pretty neat looking device, but if it weren't also sublimely comfortable, then we probably wouldn't have loved it that much.
There isn't necessarily anything out of the ordinary comfort wise, but the silicone band just feels really soft to touch and sooner or later you'll just forget about it being on your wrist.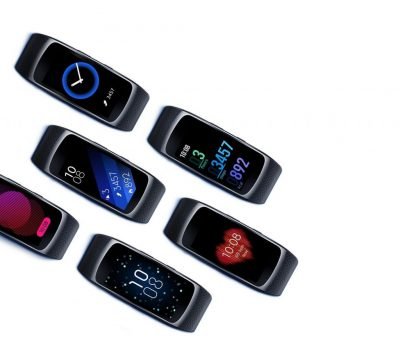 Getting to the main characteristic of the fitness band, it's only natural that you'd expect a certain level of fitness features. One of the most coveted things that we were expecting was being able to pause our workouts. And we weren't disappointed: pausing a workout can simply be done on the Samsung Gear Fit 2 by tapping the back button.
The real time accurate stats it offers through its built in GPS are another feature that we were enthused about. It was possible to go for a workout without our phone and have our location mapped with the Gear Fit 2. It also makes it easy to check your daily progress on the screen with the activity summaries.
As part of its notification services, the Gear Fit 2, of course, displays texts and even notifies you of a call coming through. You can tweak the text replies to better fit your character so that a quick text reply to a missed call actually seems like something you'd type and less robotic than the default options.
The Samsung Gear Fit 2 has received a tech spec overhaul and as a result, it's zippy, even when tracking an exercise and overloaded with notifications coming through.