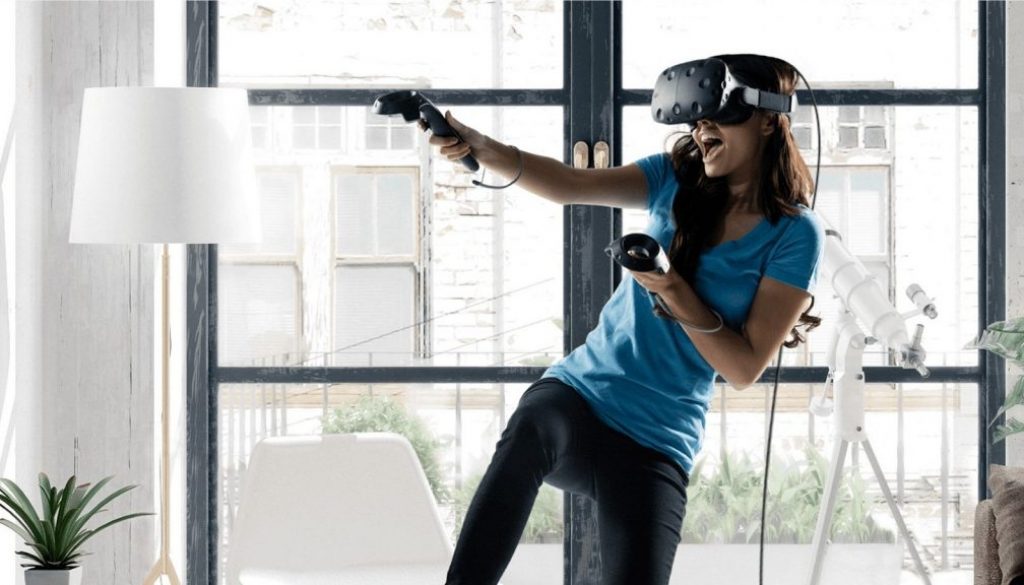 Virtual reality is growing fast and HTC definitely did not waste any time to get ahead of its competitors. The company successfully showed of its potential by offering a VR experience that will blow you away from the very first moment you strap on the device.
In fact, the device is so far ahead of its competitors that describing the experience you'll have with HTC Vice is a challenge. It's like describing a game to someone who has never played one.
Even if you've already tried some of the other models available on the market, the HTC Vive is a tremendous upgrade that is nearly impossible to be put into words.
If you're a VR naysayer, the HTC Vive will take all your reservations away as soon as you try it.
When paired with a proper hardware – say a PC with an Intel Core i5-4590K and a Nvidia GTX 970 – the HTC Vive is the perfect portal into a new medium that is currently dominated by short demos and a growing library of games.
Here's what's amazing about it:
• The one-to-one movement tracking
• A Perfectly natural 110-degree field of view
• Not even a screen tear or dropped frame when using the right equipment
• Movement feels shockingly natural
• Best-in-class controllers
• Demos and games available through SteamVR definitely blow competitors away
There's only one downside: the price. The HTC Vive was not cheap at all at launch and for a long time after that, but earlier this year it just got a bit less expensive. However, even so, the system sells for around $499, excluding the computer with the recommended specs.
In comparison to the Oculus Rift, Vive is just $100 more but definitely worth every buck given the experience you're going to have with this one.
Just like any other virtual reality headsets, the Vive wished to immerse you in a video game by producing two images at the same time. However, unlike some of its competitors that use a single camera to track your head and extremities, Vive has two base stations that sit on the wall attached to the included wall mounts and help map track your movements as you walk around in the virtual world.
Get the HTC Vive and you'll receive a Vive headset unit, two controllers, two base stations, earbuds, a cloth to wipe the lenses with, a small hub that sits between the headset and your PC, charging cords for the controllers and power cables for base stations.
It's everything you'll need to immerse into a great virtual reality experience.