The First Face Masks made us wonder why it took us so long to wear face masks that match our clothes. With more than 30 cool-looking designs available, these non-medical grade masks should be in anyone's wardrobe during and after the pandemic.

First Face Masks are part of the latest trend in facial protective gear that aims to make a fashion statement besides supporting your well-being against harmful air particles. They feature high-quality materials that should keep you safe and make you look good at the same time.
After several weeks of research, we concluded that the First Face Masks from First MFG have enhanced their market share and gained the admiration of users thanks to their delivery of an honest product with no additional marketing schemes aimed at ripping people of their money.
What We Love About First Face Masks
The first thing that impressed us about the First Face Masks is the high-quality fabric that stretches and adjusts to your facial traits. Unlike regular masks you find in most pharmacies and retail stores, these should fit like a glove on anyone's face.
Secondly, we love the variety in patterns that you can choose for your mask. First Face Masks are available in more than 30 different designs that range from eye-catching floral patterns to imposing pirate motifs and country flags. For those who prefer simpler face mask designs, a plain, white pattern is also available.
Another remarkable aspect is that every mask has a double layer of fabric to protect your face from moisture or other external agents. Even if it carries an extra coat of fabric, the First Face Mask should feel light and comfortable on your face. From our experience, you may even forget you're wearing one when working, commuting, or attending a meeting.
We also discovered that First Face Masks feature top-level resistance to dust, cuttings, and scratches.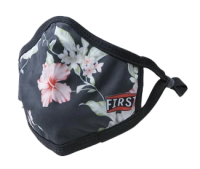 Another cool feature of the First Face Masks is that they come with elastic rubber bands that fit snuggly behind your ears. Contrary to regular face masks, these innovative facial protectors from First MFG have a minimal risk of causing rashes or itching behind the ear or on your chin.
Last but not least, we love the fact that you can match a First Face Mask with nearly any attire in your wardrobe. The broad variation of colors and sleek designs make it easy to wear these masks with office suits, casual clothes, and even sporting equipment.
How First Face Masks May Help You
We already talked about how First Face Masks fit and feel on your face. Now, let's look at how they can help you in your usual routine.
First Face Masks allow for easy breathing, so you should be able to wear them at all times and almost in any environment without experiencing respiratory problems. They should be a perfect match for you, especially if your job demands that you wear a face mask for the entirety of your shift.
While they are non-medical grade face masks, these facial protectors from First MFG should still provide you with optimal defense against potentially harmful air particles.
First Face Masks Essential Features
First Face Masks are made from high-quality fabric and boast eye-catching designs. You can wear them in almost any kind of environment and still enjoy maximum protection with a secure fit around your ears.
First Face Masks are reusable. You only need to wash and air-dry them before the first use. Because they maintain their protective features for up to 45 wash cycles, you can enjoy their benefits for several months in a row.
Each pack of First Face Masks you purchase contains 5 pieces. They come at an affordable price. So, you should be able to buy enough First Face Masks to match every suit in your wardrobe for years to come.
DESIGN
VALUE
READER RATING
EXPERT RATING


First Face Masks are available to order only from the manufacturer's website. Unfortunately, you cannot find them in pharmacies or retail stores. However, buying them online should provide you with essential customer benefits.
When you buy First Face Masks directly from the manufacturer, you know you are ordering a genuine product. Additionally, you may get access to a broad range of discount offers, time-limited offers, and cost reduction promotions. For more information, please visit the
official First Face Mask website.