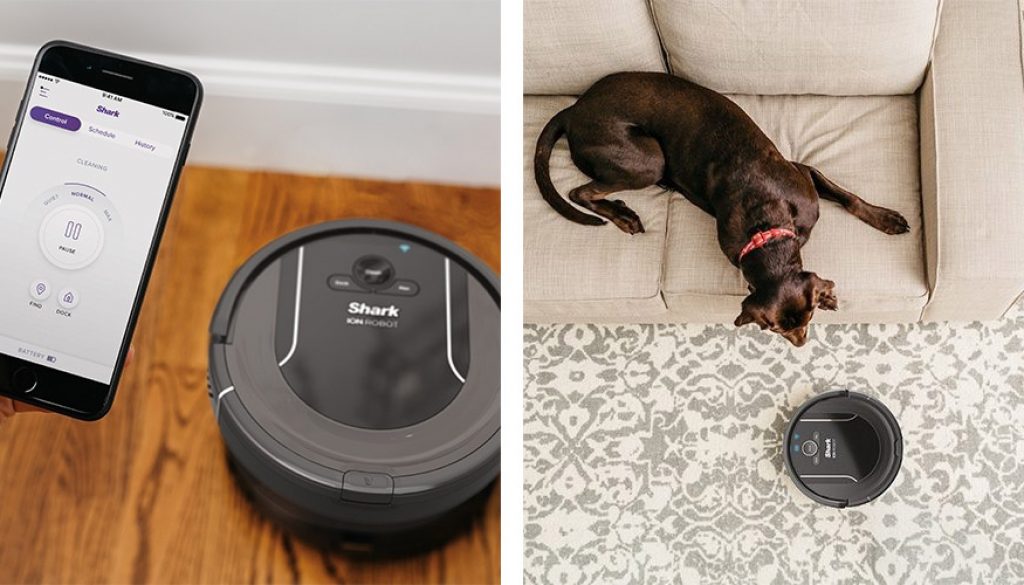 Cleaning up the house is not one of our favourite activities, and it gets even more bothersome for us mere mortals are owned by a cat. So it's pretty obvious that we could all do with a helping hand… or helping gadget. Enter the Shark ION R85, one of the most intuitive, efficient and advanced robot vacuums.
For starters, you can indulge in most of its control options during the times it's connected to a wiki network, including smartphone pairing and voice commands. But you also get a remote control which lets you use it when your internet is down.
Basically, just as a standard robot vacuum, you can set a cleaning schedule and choose between three suction speeds and thanks to Shark's Smart Sensor Navigation 2.0, the R85 robot vacuum not only expertly dodges obstacles but also remembers your home's layout. Of course, you're free to put down the magnetic boundary strips that come with the vacuum to create no-cross areas.
Its design is one of the things that impressed us the most, coming at 3.4 inches high, having at its top a mixture of dark gray and black, with three buttons: Clean, Dock and Max. Lighted indicators for error, charge level and Wi-Fi appear above the physical buttons. If you flip the Ion robot vacuum you find two large, springy rubber wheels and a small roller wheel up front. Two single-spoke brushes flank either side of that wheel, with their bristles planted on twisted rubber fins that are really easy to clean.
Releasing the dustbin, which is extremely elegant, by the, on the Ion Robot was easy enough; simply depress the rear edge of the vacuum.
When it comes to setting up the Shark Ion, all you need is the required app for Android or iOS and a 2.5-GHz Wi-Fi network (sorry, no 5 GHz) if you want to control the vacuum without bending down. Once you've made the connections you can start or stop cleanings and select Normal, Quiet or Max cleaning settings. The app is also where you can schedule cleanings, see historical cleaning data and receive notifications about what's happening with the Ion.
Speaking of the cleaning capacities, let's talk a bit about the three suction speeds. Depending on the concentration of debris and the type of flooring, you may need to adjust the vacuum cleaner's suction strength. For the Ion R85 vacuum robot these translate into the following: Normal mode is the default setting; it's suitable for everyday vacuuming, Quiet mode is great for bare floors and turning down the volume when you watch TV, and max mode takes care of big messes or thick carpet.
What we didn't like
On the negative side, let's say, besides having a pretty short battery life, is that there's no place on the charging dock to store the accessories. You don't have anywhere on the charging station to put the handheld's crevice tool, pet brush, or soft brush. This is a bit annoying because you end up storing them in a drawer or a closet. Then, when you reach for the handheld, you also must walk to that drawer or closet for the attachment you need.