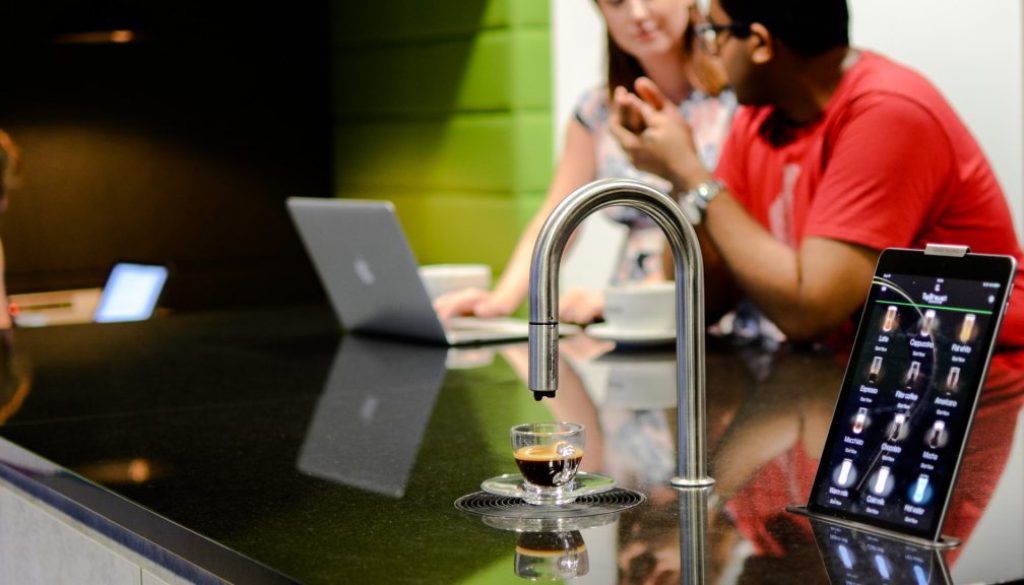 TopBrewer Scanomat offers the best coffee experience every coffee lover deserves to enjoy in their life
TopBrewer Scanomat brings an innovative and stylish under-counter design, with a swan-neck tap and app-control technology meant to meet the needs of today's coffee enthusiast.
The TopBrewer Scanomat can easily integrate into any environment and provide a wide range of customized drinks at the simple touch of the TopBrewer App. Just remember at the start of each day to refill the coffee beans and the fresh milk and the TopBrewer is ready to work in just 45 seconds.
Moreover, TopBrewer Scanomat rids you of needing different bean-to-cup coffee machines and helps you free up precious counter space. Plus, besides its ingenious design, this also comes with an Apple and Android compatible app provided by CoffeeCloud, the best IoT cloud management system for coffee machines, that offers notifications options, realtime surveillance of your coffee, and secure data guaranteed by the latest encryption and certification standards.
TopBrewer brings a revolutionary way to brew a cup of coffee beyond a barista, with a new innovative and instinctive user experience that is seamlessly integrated into any environment. That is why the TopBrewer Scanomat is great to use in the workplace, its great design and fresh coffee offer a great way to start the work day. It is also suited for use in hotels or restaurants, this way hosts can make sure guests receive a quality coffee experience like no other.
Also, with its clean lines, stylish and minimal design, it represents a smart solution for conference venues to offer a special guest experience. The process is very simple: fresh water is heated for every cup, fresh milk is steamed and frothed to a silky smooth texture, and quality coffee beans are brewed for your daily caffeine needs.
This coffee machine is so easy to use and it takes up very little space, you just need to hide it in the kitchen, underneath the kitchen counter, or inside your kitchen island. You can just select and customize your desired drink with the TopBrewer app and you get great coffee on tap. Using the TopBrewer is fun and interactive and delivers a unique personalized coffee experience.
This TopBrewer product combines cutting-edge design, premium quality beverages, cashless payment and IoT technology to deliver a variety of specialty drinks at the touch of the TopBrewer app.
Plus, by using an Apple Watch or smartphone, customers can easily select their favorite coffee with a single click on the QuickBrew button.