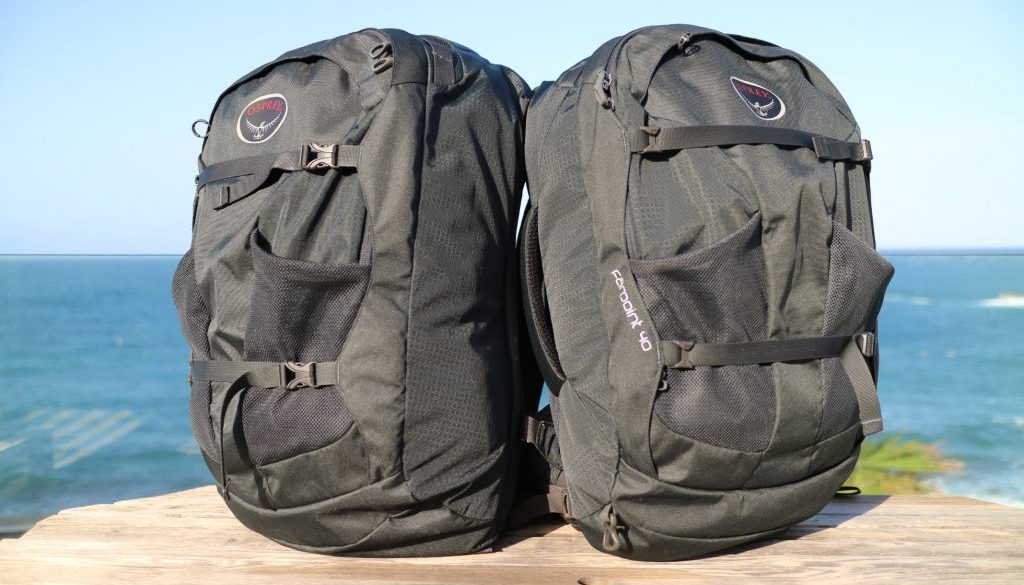 After reading several reviews on Oprey's line of backpacks, we've decided to give one of it's spearhead products a shot. And so we've chosen the Farpoint, that's "by far" one of the best backpacks we've ever came across.
Whether you are traveling, hiking or camping, when it comes to the best travel backpacks, Osprey is most certainly part of the cream of the crop, and the Osprey Farpoint and Fairview are two of the crowd favourites.
The Farpoint and the Fairview do most of the things that a backpacker needs such an essential asset to do. With a 40-liter main compartment (which can be carry-on compliant if not stuffed full) and extensive ergonomic padding, these packs are big and supportive enough to comfortably carry everything you need to travel across all of Europe, but also small and manageable to navigate in some forest nearby your home town.
Between them, they fit a wide range of body sizes. And they are well-made and backed by a lifetime warranty, but you're unlikely to need it.
When it comes to the main compartiment, the Farpoint unzips on three sides like a suitcase which means it's easy to take things out without having to unpack the entire contents. Even easier using packing cubes. The main compartment is roomy and has dual compression straps and a large zipped mesh pocket.
As far as the durability of the Farpoint and Fairview go, from the first minute you touch it, you just feel that it's made to last. Osprey has to be one of the main players in the backpack manufacturing business, and the Farpoint is certainly no exception to the rule.
It holds up really well even if you stuff it to the fullest. The majority of the bag is made from a tough nylon blend, with mesh on the back panel for ventilation. The nylon is strong and relatively easy to clean.
Even though it doesn't market itself as waterproof, we've found it to be very water resistant. We've had it out in the rain and it showed no signs of any water coming through.
One the coolest features of this backpack series is that it's gender specific, having the Farpoint is aimed almost exclusively at men (although some say that the Farpoint 40 is gender neutral) and has slightly wider-set shoulder straps that could also work for taller, broader females. It's female equivalent is the Fairview, which comes with narrower shoulder straps.
They have functional, removable 15-liter daypacks that comfortably fit a laptop.
For all of us environmentally friendly users, Osprey is also dedicated to protecting the environment and thus it designs quality products built to last a long time. Their All Mighty Guarantee says they'll fix or replace any of their products however old they are. They must be pretty sure of the quality to make this promise.
Osprey don't over-produce only to sell at discount prices. Osprey's focus on quality products leads to the brand creating backpacks that are super comfortable. And the Osprey Farpoint 40 is no exception. Quality materials are used and wastage is kept to a minimum. The product is not fashion driven so customers are not encouraged to replace bags before they're worn out. Packaging is kept to a minimum and is recyclable.
Adjustability is one of the minuses of both the Farpoint and the Fairview that's worth mentioning. They have all the adjustments you'd find on a typical backpack, but lack torso-length adjustment. This is important because if a pack doesn't fit, you're not going to like it, no matter what features it has.
Another downside that we've noted was that by having a sturdy internal frame and advanced suspension system is that you can't really put a laptop sleeve against your back.